Be advised that this page is under construction. Although we do our best to ensure that all redirects and links continue to work, you may receive an error message or not end up where you would like.
If you get lost on the page or cannot find the answer to your question, please contact us using the button below.
I am lost!
Robot Rentals, hire a robot to inspire and experience
For many people robots are still an unknown entity. Inspired by films and books, potential clients may have very high expectations or be afraid that robots will take over the world. Robots are already a real part of our lives. Robot Rentals wants to introduce robots to the general public by renting robots for workshops and events. You can experience what robots are already capable of right now and what developments are expected in the near future.
Impression of our contribution with robots on events
Renting a robot is a great way to get your audience and employees into gear for the future. We are your go-to partner for creating great robot experiences. We have serviced over 500 clients worldwide and work together with qualified partners. Robot rentals is the first worldwide robot rental company. We have been first mover in this market since 2015. Please refer to a short impression of some of our events here.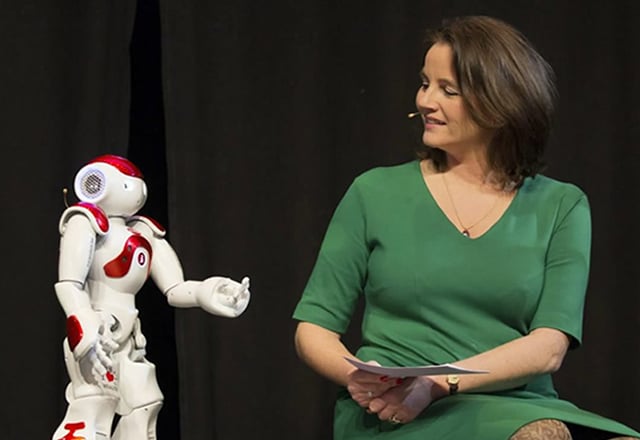 Do you want to make your innovation day more attractive? We can offer several robots that will inspire your audience and allow them to personally interact with a robot. Many clients have asked us to supply a robot on stage as a co-host, their audiences love it each and every time!
Do you want an appealing keynote speech for your event? What about a robot on stage? We have renowned and experienced keynote speakers who will inspire and educate your audience on the impact of robots and other exponential technologies.
Bring innovation to life
People are fascinated by new possibilities, but sometimes there is also fear. People will worry about their relevance in the workplace. Many of us are cautious about the unknown. About what we do not understand. Exponential technologies will create an exciting future nevertheless and innovation starts with understanding and experiencing new technologies! We will help people to fantasize about the use of new technologies in order to create new and relevant services. We help companies that are committed tot taking a step into the world of tomorrow and the day after tomorrow.